Veg. Tan. Splits - "B" Grade
code:
splits
- Special offers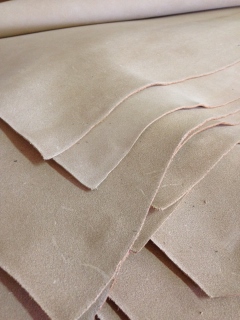 Vegetable tanned splits, available in Natural color.
Thickness about 0.7/1.2mm.
The thickness of these skins isn´t uniform, with possible thickness variations within the same skin. They may have some light imperfections (irregular size, small cuts, etc.). The size is still large (about 1.50 sq.mtr.).
As a SPECIAL OFFER this offer is valid until the available stock is exhausted and only for lots of 10 skins each.
Regular price is € 95 per lot. Discounted price is € 70 per lot!!
€ 70,00
/ per lot (10 pieces)
star_border
favorite_border
[
]
[
]
[
]
[
]