Natural Crust Cowhide
code:
nat001
- Our Leathers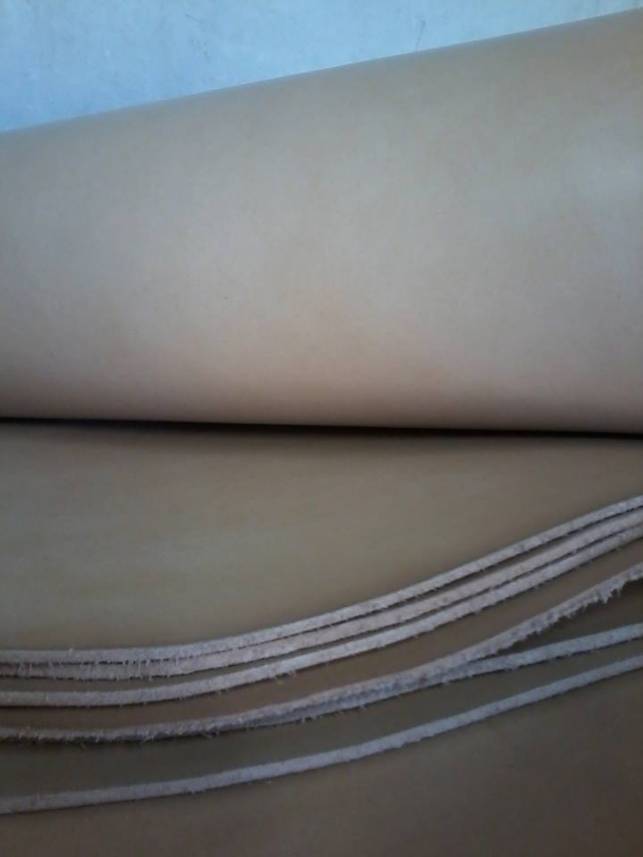 The Genuine Leather.

Smooth, first choice double shoulders,full grain, vegetable tanned, natural, not finished, suitable for any kind of technique and decoration that requires strenght and solidity.

Thickness: mm. 0,8 up to mm. 3,0
Size: 1.40/1.45 sq.mtr. per piece

It's available also a special selection of 'heavy' skins where the thickness can go from mm. 3,1 up to mm. 3,5
Size: 1.60/1.70 sq.mtr. per piece

Because each skin is unique, the measurement is based on an average.
After submitting the order, you'll be contacted if there are significant changes in the size and/or price.


star_border
favorite_border
mm. 3,1/3,5 (7-9 oz.) , mm. 3,1/3,5 (7-9 oz.) - Half Skin , mm. 0.8/1.0 (2-3 oz.) , mm. 1.3/1.5 (3-4 oz.) , mm. 1.8/2.0 (4-5 oz.) , mm. 2.5 (6-7 oz.) , mm. 3.0 (7-8 oz.)
Product variants

| product | Price | add to order |
| --- | --- | --- |
| nat001-6, Natural, mm. 3,1/3,5 (7-9 oz.) | € 115,00 / per skin | |
| nat001-1, Natural, mm. 3,1/3,5 (7-9 oz.) - Half Skin | € 60,00 / per skin | |
| nat001-16, Natural, mm. 0.8/1.0 (2-3 oz.) | € 100,00 / per skin | |
| nat001-50, Natural, mm. 1.8/2.0 (4-5 oz.) | € 100,00 / per skin | |
| nat001-18, Natural, mm. 2.5 (6-7 oz.) | € 100,00 / per skin | |
| nat001-19, Natural, mm. 3.0 (7-8 oz.) | € 100,00 / per skin | |
| nat001-70, Natural, mm. 1.3/1.5 (3-4 oz.) | € 100,00 / per skin | |
| nat001-9, Brown, mm. 3,1/3,5 (7-9 oz.) | € 115,00 / per skin | |
| nat001-2, Brown, mm. 3,1/3,5 (7-9 oz.) - Half Skin | € 60,00 / per skin | |
| nat001-20, Brown, mm. 0.8/1.0 (2-3 oz.) | € 100,00 / per skin | |
| nat001-61, Brown, mm. 1.8/2.0 (4-5 oz.) | € 100,00 / per skin | |
| nat001-22, Brown, mm. 2.5 (6-7 oz.) | € 100,00 / per skin | |
| nat001-23, Brown, mm. 3.0 (7-8 oz.) | € 100,00 / per skin | |
| nat001-71, Brown, mm. 1.3/1.5 (3-4 oz.) | € 100,00 / per skin | |
| nat001-12, Dark Brown, mm. 3,1/3,5 (7-9 oz.) | € 115,00 / per skin | |
| nat001-3, Dark Brown, mm. 3,1/3,5 (7-9 oz.) - Half Skin | € 60,00 / per skin | |
| nat001-24, Dark Brown, mm. 0.8/1.0 (2-3 oz.) | € 100,00 / per skin | |
| nat001-56, Dark Brown, mm. 1.8/2.0 (4-5 oz.) | € 100,00 / per skin | |
| nat001-26, Dark Brown, mm. 2.5 (6-7 oz.) | € 100,00 / per skin | |
| nat001-27, Dark Brown, mm. 3.0 (7-8 oz.) | € 100,00 / per skin | |
| nat001-77, Dark Brown, mm. 1.3/1.5 (3-4 oz.) | € 100,00 / per skin | |
| nat001-15, Black, mm. 3,1/3,5 (7-9 oz.) | € 115,00 / per skin | |
| nat001-4, Black, mm. 3,1/3,5 (7-9 oz.) - Half Skin | € 60,00 / per skin | |
| nat001-28, Black, mm. 0.8/1.0 (2-3 oz.) | € 100,00 / per skin | |
| nat001-58, Black, mm. 1.8/2.0 (4-5 oz.) | € 100,00 / per skin | |
| nat001-30, Black, mm. 2.5 (6-7 oz.) | € 100,00 / per skin | |
| nat001-31, Black, mm. 3.0 (7-8 oz.) | € 100,00 / per skin | |
| nat001-63, Black, mm. 1.3/1.5 (3-4 oz.) | € 100,00 / per skin | |
[
]
[
]
[
]
[
]